eMFAS Newsletter No. 12
Submitted by
Admin
on Sat, 17/08/2013 - 19:55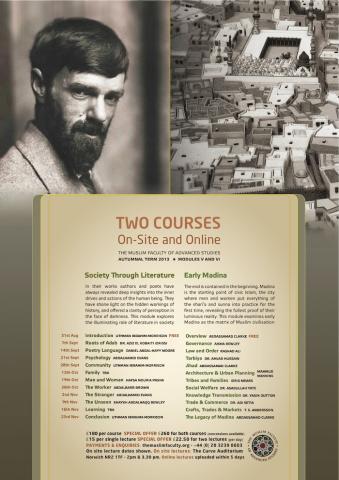 eMFAS is the Muslim Faculty of Advanced Studies Newsletter. It is a quick and simple way of keeping you up to date with the Faculty's regular programmes, lectures, events and free offers!
The Autumnal 2013 term is on it's way with two new courses: Early Madina and Society through Literature. The courses take place in Norwich and are recorded and posted on the Members' Area of the website for registered students – book your place below!
50% Discount
We take the opportunity of the new MFAS term to extend offers to large numbers of people, because serious students of knowledge are rarely the wealthiest of people. The offer extends to:
Attendees at the Norwich Deen Intensives
People who have previously attended MFAS courses or taken out a membership
And naturally all those with genuine circumstances that do not permit them to pay full fees, including:
Those in full-time education
Those experiencing genuine hardship
There is also an international cost of living adjustment
Just apply to Shakura or phone Khalil at +44 (0) 20 3239 0603
FREE – Introductory Lectures
We are offering attendance at the introductory lectures for our two new courses for free, singly or together. Simply write to Shakura to register or phone Khalil at +44 (0) 20 3239 0603.
EARLY MADINA
As the context in which much of the dīn was revealed, the sharī'a put in place and the Sunna practised, the city of Madina has not been well understood. It remained the political centre of Islam during the first three caliphates and after that continued as a major locus of learning and, more importantly, of everyday communal embodiment of the dīn. An appreciation of its life and culture is vital for a complete understanding of the Book and the Sunna, just as a proper grasp of our current society is an essential requirement for putting them into practice.
When and Where?
2pm, Saturday 31st August – Curve Auditorium, The Forum, Millennium Plain, Norwich, NR2 1TF.
ONLINE Tuesday 3rd September.
SOCIETY THROUGH LITERATURE
In their works authors and poets have always revealed deep insights into the inner drives and actions of the human being. They have shone light on the hidden workings of history, and offered a clarity of perception in the face of darkness. This module explores the illuminating role of literature in society.
When and Where?
3:30pm, Saturday 31st August – Curve Auditorium, The Forum, Millennium Plain, Norwich, NR2 1TF.
MFAS Autumnal Term 2013
If you are not going to avail of our concessions, then:
1

  Book the entire course:
2  Book both current courses in their entirety (SAVE £100):
Donations and Scholarships
Donations
The Muslim Faculty of Advanced Studies is constituted under the aegis of the Blackstone Foundation (UK registered charity no.1027789). MFAS relies exclusively on charitable donations from individuals, minimal tuition fees, membership subscriptions and the work of volunteers. We receive no state funding and eschew subsidies from any source likely to compromise our academic integrity or capacity for self-determination. Please help our work by donating here.
Isaac Newton: The Last Magician
See this intriguing BBC documentary about Isaac Newton and then avail of our 2013 Vernal module on Technique and Science, two lectures of which are free.