MFAS Study Circles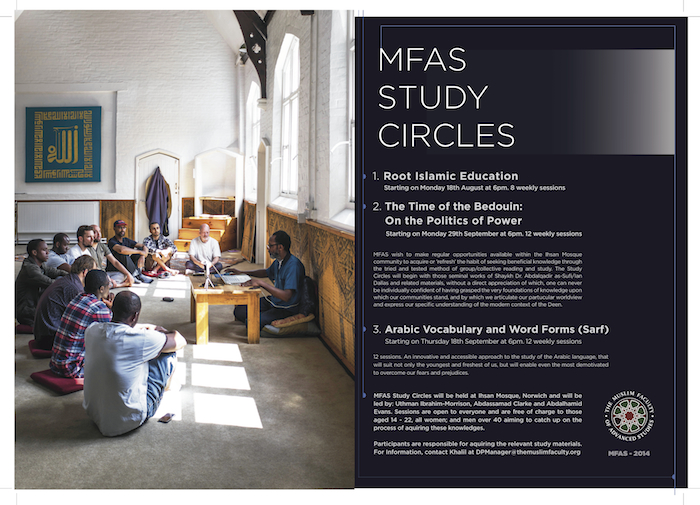 MFAS wish to make regular opportunities available within the Ihsan Mosque community to acquire or 'refresh' the habit of seeking beneficial knowledge through the tried and tested method of group/collective reading and study. The Study Circles will begin with those seminal works of Shaykh Dr. Abdalqadir as-Sufi/Ian Dallas and related materials, without a direct appreciation of which, one can never be individually confident of having grasped the very foundations of knowledge upon which our communities stand, and by which we articulate our partucular worldview and express our specific understanding of the modern context of the Deen.
1. Root Islamic Education
Starting on Monday 18th August at 6pm. 8 weekly sessions

2. The Time of the Bedouin – On the Politics of Power
Starting on Monday 29th September at 6pm. 12 weekly sessions
3. Arabic Vocabulary and Word Forms (Sarf)
Starting on Thursday 18th September at 6pm. 12 weekly sessions
An innovative and accessible approach to the study of the Arabic language, that will suit not only the youngest and freshest of us, but will enable even the most demotivated to overcome our fears and prejudices.
MFAS Study Circles will be held at Ihsan Mosque, Norwich and will be led by: Uthman Ibrahim-Morrison, Abdassamad Clarke and Abdalhamid Evans. Sessions are open to everyone and are free of charge to those aged 14 - 22, all women; and men over 40 aiming to catch up on the process of aquiring these knowledges.
Participants are responsible for aquiring the relevant study materials.
For Information, contact Khalil
Resources for Arabic study
The Meaning of Man: Introduction by Shaykh Dr. Abdalqadir as-Sufi