The Question concerning Education
Civilisation and Society V: The Question concerning Education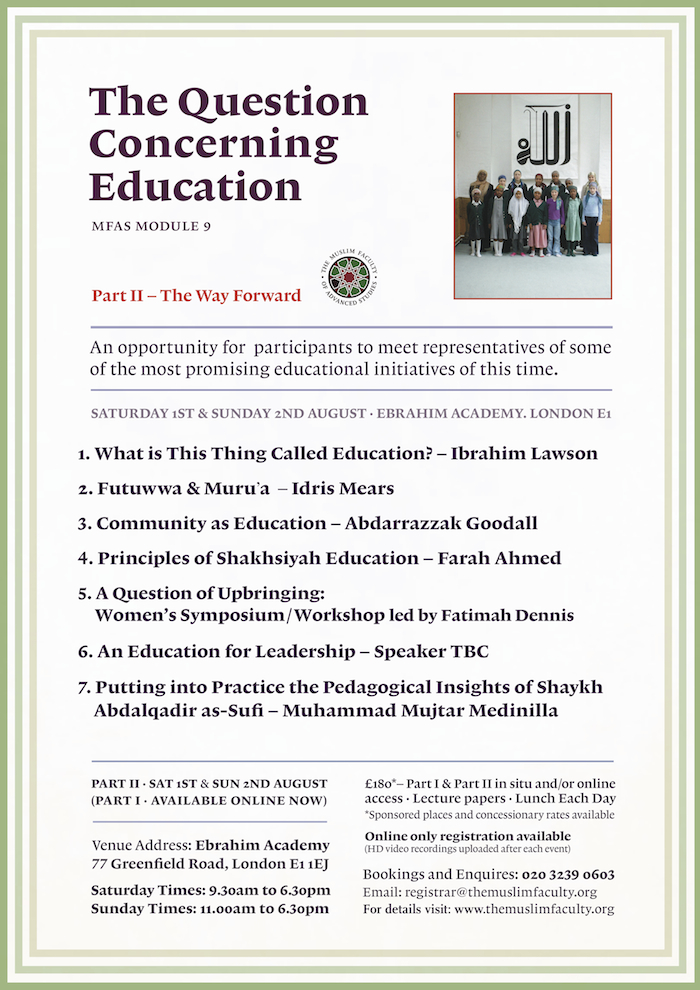 After the highly stimulating Question Concerning Education, part 1 (see below), which became in effect an extended symposium its challenging lectures contributing vitally to what was a searching enquiry and conversation or 'conference' in the true sense of the word, the highly anticipated part 2 "The Way Forward" took place in London on Saturday 1st and Sunday 2nd of August, at Ebrahim Academy.
Following on from the little known but highly appreciated Norwich Academy International Working Conference on Education of 2003 and the series of annual conferences arranged by Al-Andalus Foundation for Education in Granada, this course is intended to articulate an approach to education founded in tradition but informed by experience, garnered from numerous valuable pedagogic ventures. This course took place in London on the weekends of 2nd & 3rd May and the 1st & 2nd August 2015.
MFAS – a Cautious Welcome: A comprehensive introduction to the practical goals and educational ethos that determine the priorities of the Muslim Faculty of Advanced Studies as an innovative tertiary level initiative designed by Muslims for Muslims.


Uthman Ibrahim–Morrison FFAS

Islamic Education Versus Assimilation
Muhammad Mujtar Medinilla, delivered by Abdassamad Clarke FFAS
The Power of Education
Dr. Jeremy Henzell-Thomas. Due to a prior commitment, Dr. Henzell-Thomas was unable to deliver his paper in person and attendees received PDF copies of it for their own perusal.

The Trojan Horse Affair: Public exposure to the 'underside of the underneath' in the politics of state sponsored education and the 'War on Terror'.


Farah Ahmed

Deoband and the Dar al-'Ulum: A history and an appraisal
Moulana Shams Ad-Duha
Symposium
VENUE: Ebrahim Academy
77 Greenfield Road, LONDON E1 1EJ
TIME: 11.00am to 6.00pm each day
Part II (The Way Forward) 1st – 2nd August 2015
What is this thing called 'education'? and what part does it play in the emergence of ecopoiesis, the spontaneous manifestation of sustainable human-dwelling in the world?




Ibrahim Lawson, Director of Research at Ebrahim College

Futuwwa and Muru'a (manliness and womanliness)
Idris Mears

Community

as Education
Abdarrazzak Goodall
Principles of Shakhsiyah Education - a way forward for developing contemporary education models from an Islamic worldview
Farah Ahmed,

Director of Education and Executive Head teacher,

Islamic Shakhsiyah Foundation

A question of upbringing: Women's Symposium/workshop - Education and the Art of Matchmaking
Facilitator, Fatimah Dennis
An Education for Leadership
Speaker TBC
Realities of the Free School Option – A presentation by FS Project Consultant, Maddy Orobator
Putting into Practice the Pedagogical Insights of Shaykh Abdalqadir as-Sufi
Hajj Muhammad Mujtar Medinilla
For enquiries, contact Khalil
As usual, people who register for MFAS Residentials or Modules will be able to attend in person, view the lectures on-line and study the lecture transcripts.
£180
To book via Paypal, click on the 'Pay Now' button below.
What do you get? You will receive links through which you can download all the HD quality videos and lecture transcripts or a quality USB stick with the same material.
Please note that subscriber members gain a number of benefits, including copies of the bi-annual MFAS Journal and discounts on modules and programmes. Apply for membership here.
If your circumstances are such that you want to avail of further concessions, and/or you want to pay in instalments, then contact Bookings at bookings(at)themuslimfaculty.org or call us on +44 (0)203-239 0603
If you want to ask questions about the academic side of the courses, then contact our Director of Studies, T. S. Andersson at directorofstudies(at)themuslimfaculty.org
After booking by Paypal, a confirmation will be sent to your email.